On Friday October 19th, we celebrated Hopecam's 15th Anniversary at our Give Hope, Get Connected Gala Celebration. The event was held at the Silverline Center in Tysons Corner. $145,000 was raised at the Gala, to connect more children fighting cancer!
We started the evening off with our founder Len Forkas speaking and presenting a special Hopecam 15th Anniversary video, and then Len presented a special award for 'Outstanding Service' to Robert Carr. Mr. Carr helped make the very first Hopecam connection with Matt Forkas at his school!
Sam Rosko, Hopecam's Volunteer Coordinator, presented Volunteer Awards to Kristine Milch and Terry Noziglia. Thank you Kristine and Terry for all your volunteering and all of your efforts, and to all of our amazing Hopecam volunteers!
Our Hopecam Development Director, Lauren Priestas, presented an award to our top Referral Hospital of the Year:
UK Kentucky Children's Hospital.
A representative from the Hospital was not able to attend the gala, therefore Hopecam will be sending the award to them.
Frank Fumich, whom participated and successfully completed the Race Across America in June this year, raised over $85K for Hopecam! He dedicated each of the 12 days he cycled to a different Hopecam child. He could not attend the gala that evening but he did create this special video in his absence:
We had 2 Hopecam families that attended the gala. Fletcher who is from Centreville, VA, and he is treated at St. Jude Children's Research Hospital. Hopecam has helped him connect with his family, friends and school while he is in Tennessee receiving his treatment.
Also the parents of Lily (Jennifer and Ryan) attended with Lily's Kindergarten teacher Amanda Hutchings. Amanda spoke at the event on how Hopecam helped Lily connect with all of her classmates while she was in treatment for childhood cancer. As Lily attended only 1 day of Kindergarten before she was diagnosed. Amanda's speech was nothing short of amazing, and there were many tears in the room.
Brandon Snow of Catered Solutions, catered the event with an amazing dinner.
Brandon was on Len's Race Across America (RAAM) crew last year, and he also was on Frank Fumich's RAAM crew this year.
Thank you to our Gala Celebrations Sponsors!
Amazon AWS, Alliance Bernstein, Cooley, Milestone Communications, Baker Tilly, The McLean Group, Donohue & Stearns, Maryland DC Wireless Association, Lindsey Joelle Miller Memorial Fund, Capital Seniors Housing, Jeff and Jacky Copeland, Carol and Will Kaffenberger, MC Partners, Scott Plein, Marty and Ann Tarr, James and Sharon Todd, Warring & Company, and Mike Wheeler.
Thank you to Justin Swisher from Swisher Auctions. Justin was the auctioneer for our live auctions. A quote from his website: "It is not about confusing the audience with the chant to try to get the amount you think you need for the items, but rather, it is about selling the item with a connection to the cause that ignites an energy amongst the audience to bid to a new level of generosity."
Thank you to our Board Members Ozzie Reyes-Chica and Nic Tempestini and Larissa Simkovich for organizing this years gala! A special thank you to our Hopecam Team Lauren Priestas, Sara Dia and Sam Rosko for working tirelessly to ensure a successful and fun evening. Our Program Director Sara Dia brought her newest 4 week old family member to the event!
To close, Hopecam raised $145,000 because of the amazing heart and generosity of everyone that attended the event, donated to Hopecam, all of the vendors that provided silent and live auction items, the amazing volunteers, sponsors, Hopecam Team and Hopecam Board Members.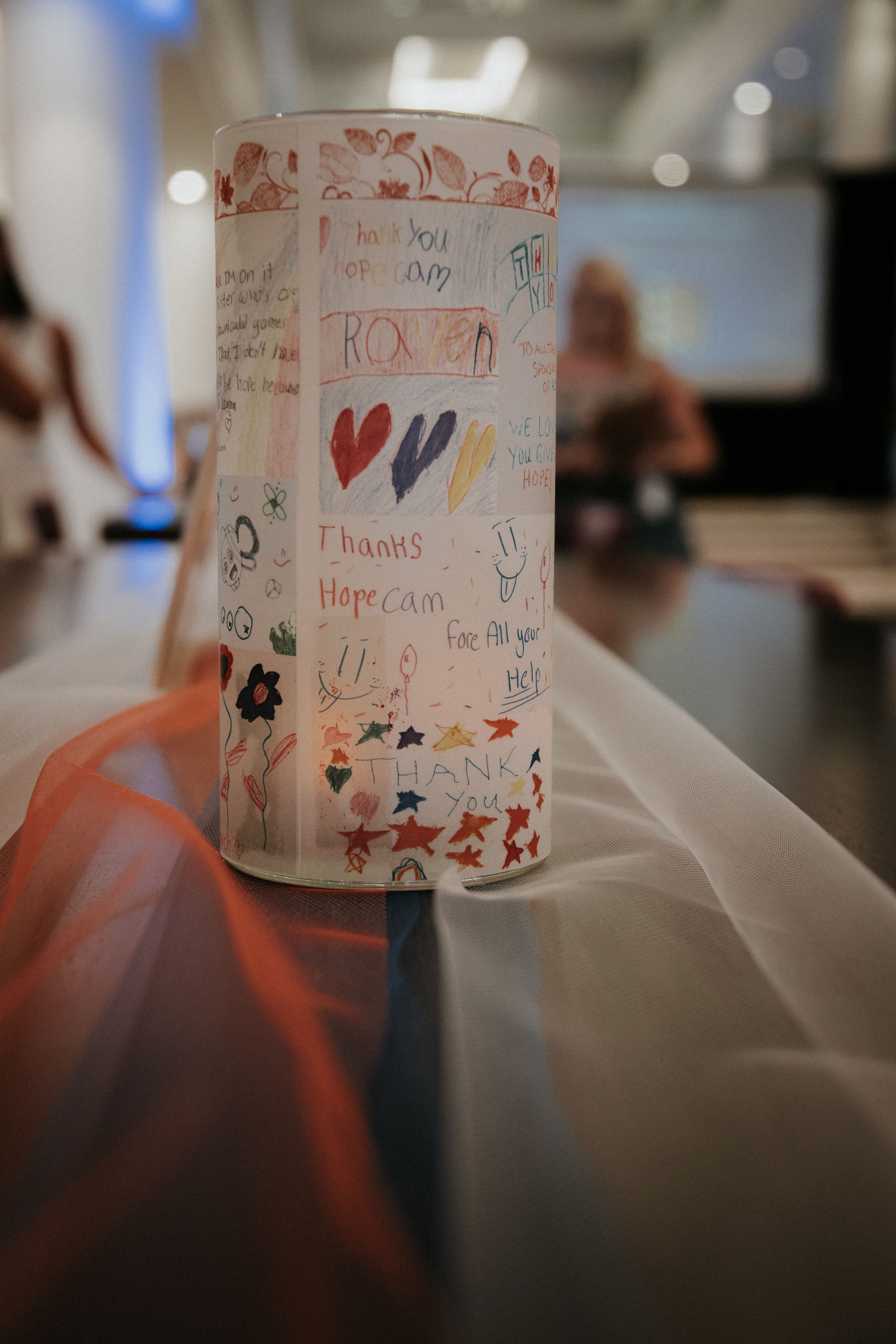 THANK YOU FROM ALL OF US AT HOPECAM!